攜帶型水中溶氧/pH/導電度/TDS/鹽度/ORP/ISE檢測儀 HQ40D Portable Multi Meter pH, Conductivity, Salinity, TDS, Dissolved Oxygen (DO), ORP and ISE For Water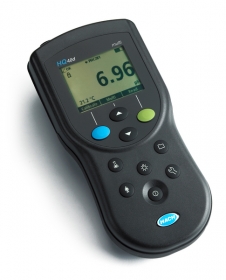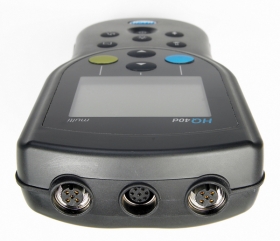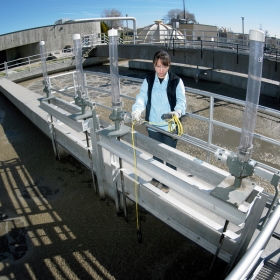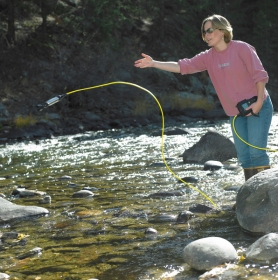 HQ40d meter 可任意搭配溶氧,pH酸鹼值,導電度,TDS,鹽度, ORP, ISE感測電極.

HQ40d系列為雙通道設計 - 搭配 IntelliCAL 各式智慧型感測電極,自動辨識水質檢測參數,儲存校正資料,隨插即測

具有USB傳輸界面,IP67等級防水設計,並有不同長度之感測電極纜線可供選配

Designed for your water quality applications measuring pH, Conductivity, TDS, Salinity, Dissolved Oxygen (DO), ORP and ISE, the Hach HQ40D portable multi meter is a two channels advanced handheld digital meter that takes the guesswork out of measurements.

關鍵字 : ph計, 手持pH計, pH meter, 手持導電度計, 電導度計, 溶氧計, 溶解氧分析, TDS檢測儀, TDS分析儀, 鹽度計, 水中鹽度分析, ISE電極, ISE分析, ORP meter, Conductivity meter
| Fluoride | Method | Range | Reagent Set(s) | USEPA Compliant? |
| --- | --- | --- | --- | --- |
| | 8323 Direct Measurement ISE | 0.02 - 19,000 mg/L F- | | |
Rugged multi meter for outstanding and flexible field water testing.
Dual input channels for flexible measurements without the need for multiple instruments, for pH, Conductivity, Resistivity, Total Dissolved Solids (TDS), Optical Dissolved Oxygen (DO), Biochemical Oxygen Demand (BOD), Oxidation Reduction Potential (ORP), Ammonia, Ammonium, Fluoride, Chloride, Sodium, and temperature - connect to any Intellical™ smart electrode, sensor or probe.
Intuitive user interface for simple operation, reliable and accurate results
Guided calibration and check standard routines reduce calibration errors while stabilization alerts and visual measurement lock ensure that you can trust the accuracy of the results. Calibration status indicator and custom calibration alerts ensure accurate results.
Trust your measurements - Intellical™ smart probes store all calibrations in the probe
Calibration history allows quick and easy change out of probes without re-calibrating. The HQD™ smart system records serial numbers, current calibration data, user ID, sample ID, time, and date automatically in the data log for complete Good Laboratory Practice (GLP) traceability. Error-free O2 results without calibration or replacing the electrolyte.
All connections between the meter and the probe are secure and waterproof. Connectors can be color-coded for quick identification. Information is clearly displayed on the one screen with back light for low light conditions. Display results can be enlarged.
Designed for demanding field operating conditions
Rugged and waterproof meter design provides worry-free, reliable operation in field environments.
Manuals

Type
Language
Size
Date
Edition
Basic User Manual: HQd Portable Meter


DOC022.97.80017

English US, French, Spanish, Portuguese, Japanese, Korean, Chinese, Thai
1 MB
2018-02
Oct17 Ed6
Quick Start Guide for Portable Meters


DOC012.98.80017

English US, German, French, Italian, Spanish
771 KB
2011-02
Ed 2
User Manual: HQd Portable Meter


DOC022.53.80017

English US
1 MB
2018-02
Oct17 Ed6
Software/Firmware

Type
Language
Size
Date
Edition
HQd Series Meter Data Transfer Utility V1
Data Transfer Utility allows transferring measurement data directly from your Hach HQd Series Meter to a computer. For use with all HQD instruments (HQ11D, HQ14D, HQ30D, HQ40D, HQ440D, HQ411D) - Portable and Laboratory models.
Only for computers running Microsoft® Windows® 7 and later operating systems.
Administrative privileges are required to install this application on your computer.
1. Save zip file on computer.
2. Extract zip file.
3. Run setup.exe
For further install information see readme.txt file included in the zip package and HQD User Manual.

English US
738 KB
2017-08
V1.0
HQD Software Update v2.5.0.744
Current software for all HQD instruments (HQ11D, HQ14D, HQ30D, HQ40D, HQ440D, HQ411D) - portable and tabletop.
1. Save zip file on computer.
2. Extract zip file.
3. Save files to empty USB stick.
For further information see update instructions and HQD manual.

English US, German, French, Italian, Spanish
1 MB
2018-04
v3.0.0.75