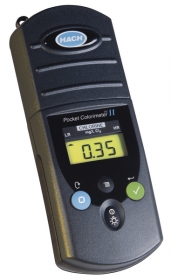 Hach公司推出了多達三十多種型號的PCII 系列單參數水質分析儀一PCII 系列袖珍比色計,不僅適用於野外現場水質測試,而且也適用於實驗室內的水質分析。PCII系列比色計產品是Hach公司按照國際規範化的檢測方法進行預先編寫程式,將標準曲線存入單參數水質分析儀中,在標準化的實驗室內進行出廠前的嚴格校正驗證。PCII系列比色計可進行一項或多項參數的水質測量,可直接顯示測量結果。

The instrument has two channels in which measurements can be made.

Each channel will accept a user-defined calibration curve. Up to 10 standards can be used to determine the calibration.

PC II 攜帶型餘氯分析儀(餘氯計)
● 攜帶方便:僅重230克
● 優良的防水性能:浸在約1公尺的水中長達30分鐘仍能正常使用
● 數據記錄功能:允許使用者儲存和調用10個最近的數據點,無需手動記錄數據
● 大屏幕顯示螢幕:
(1)具有背景照明功能,當光線較暗時,便於查看螢幕上的讀值
(2)電量顯示圖標,可指示電池電量,便於及時更換電池。
Single Parameter go anywhere portable photometer
Lightweight and battery operated, suitable for extended field work or quick, on-the-spot process monitoring. Measurement can be made in two ranges for a number of important parameters.
USEPA accepted method for drinking water analyses (free and total chlorine) and wastewater analyses (total chlorine only)
The Pocket Colorimeter II is simple enough to use that anyone can obtain reliable results with accuracy comparable to that of a lab instrument.
Each Pocket Colorimeter II Instrument is pre-programmed for one of more than 35 parameters. Many are based on EPA-approved methods. No manual calibration is ever required. Simply zero the instrument with a blank, insert the reacted sample, and read the result.
Waterproof, Lightweight, Rugged
The Pocket Colorimeter II Instrument really can be carried in your pocket! Weighing in at only .23 kg (8.1 oz), the tough, impact-resistant shell protects electronics and optics for years of trouble-free operation. IP67 rating: the Pocket Colorimeter II can remain submerged at 1 meter for 30 minutes and still function properly. And, the instrument is designed to float!
Backlit Display, Data Logging, Recall
Clear readings even under difficult conditions, thanks to lighting and large figures on the display. Record 10 most recent data points along with time of measurement. No more manual record keeping hassles with carrying paper and pen.
Datasheets/Brochures

Type

Language

Size

Date

Edition

Pocket Colorimeter™ II Data Sheet


LIT2596

English US

350 KB

2012-12

Rev 5

Manuals

Type

Language

Size

Date

Edition

Basic User Manual: PCII


DOC022.L1.80451

English UK, German, Italian, French, Spanish, Portuguese, Dutch

942 KB

2014-08

Ed 1

Basic User Manual: PCII


DOC022.L2.80451

English UK, Danish, Polish, Swedish, Finnish, Russian, Turkish, Greek

1 MB

2014-08

Ed 1

Basic User Manual: PCII


DOC022.L3.80451

English UK, Czech, Bulgarian, Hungarian, Romanian, Slovenian, Slovakian, Croatian

1 MB

2014-08

Ed 1

Basic User Manual: Pocket Colorimeter II


DOC022.98.80451

English UK, Spanish, Portuguese, Italian, German, French, Dutch, Danish, Czech, Turkish, Swedish, Slovenian, Slovakian, Russian, Romanian, Polish, Hungarian, Greek, Finnish, Croatian, Bulgarian

2 MB

2014-04

Ed 1

Basic User Manual: Pocket Colorimeter™ II


DOC022.97.80451_Pocket Colorimeter™ II Instruction Manual-Mid-Range and High Range Chlorine

English US, French, Spanish, Portuguese, Chinese, Korean, Japanese

1 MB

2014-04

Ed 1

SwifTest Reagent Dispenser User Instructions


2802388

English US

73 KB

2001-08

Ed 1

User Manual: Pocket Colorimeter™ II


DOC022.53.80451

English US

709 KB

2014-04

Ed 1

Methods/Procedures

Type

Language

Size

Date

Edition

Chlorine, Free, High Range, DPD Method, SwifTest Dispenser, Pocket Colorimeter II


DOC316.53.01488

English US

208 KB

2014-04

Ed 1

Chlorine, Free, Low Range, DPD Method 8021, SwifTest Dispenser, Pocket Colorimeter II


DOC316.53.01486

English US

203 KB

2014-04

Ed 1