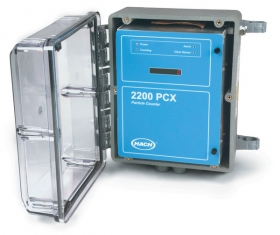 Optimize your filter analysis!

The Hach model 2200 PCX is the first particle counter designed specifically to meet the unique requirements of water treatment.

The model 2200 PCX can be integrated into your plant control system, used with our water quality software products, or both in parallel.

Collected data can be utilized for optimizing chemical dosage, backwash cycles, and filter-to-waste times.

Particle count reports can also be used to apply for removal credits and high rate filter studies.

應用於膜過濾裝置的出水水質監測以及膜完整性監測。

特性與優點
●測出水樣中顆粒的粒徑大小和數量
●對水樣的動態變化快速反應
●配置水樣進樣流量控制管道系統
●透過軟體操作,可監測8個任選粒徑的通道
●透過軟體操作,可分別記錄,數據管理,分析,以及進一步開發

- Supports up to 32 size channels and 8 analog ouputs (turbidity, pH, etc.)
- Operates stand-alone or as part of a networked system
- Volumetric-all particles pass through the sensing area
- Superior Sizing Accuracy and Sensor-to-Sensor Matching

關鍵字 : 水質粒子計數器, 水中顆粒計數儀
Supports up to 32 size channels and 8 analog ouputs (turbidity, pH, etc.)
See a wide range of particle data at one time, ensuring you never miss an event in your system.
Operates stand-alone or as part of a networked system
Use the 2200 PCX as a single data point or as an integrated part of your plant.
Volumetric-all particles pass through the sensing area
See the whole picture with analysis of the entire sample.
Superior Sizing Accuracy and Sensor-to-Sensor Matching
Industry-leading calibration yields excellent repeatability.
測量原理 :
水樣品裡面的微小粒子通過檢測通道,雷射光光束照射到水樣,水中顆粒物遮擋光線,在光電檢測器上留下陰影,檢測器檢測光線的消光度。