攜帶型水質檢測儀: 酸鹼度, 導電度, 鹽度, 溶氧 Sension+ MM156系列 Portable Multi-Parameter Meter, Field Kit with Multi Sensor for pH, Conductivity, Salinity and Dissolved Oxygen (DO)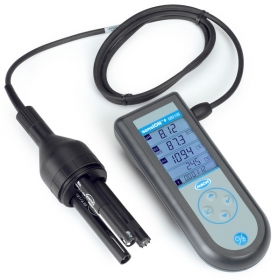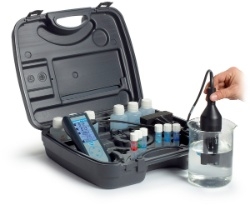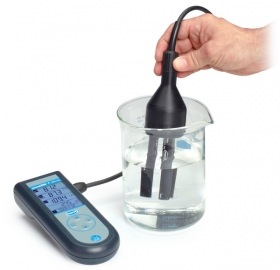 IP67防護等級 多參數整合型水質測試組 - 視覺導引操作選單, 水質檢測簡單易操作又快速!

測試參數:pH、電導度、鹽度、溶氧、溫度

Hach Sension+ family:
Fast results: Provided by the right choice of quickly responding electrodes for your application, integrated laboratory systems or unique multi probes with up to 4 parameters by 1 click for field applications.

Maximum simplicity: Sension+ systems come complete with everything you need to start testing.

Ease of use operation, either with superior field usability or fully integrated laboratory set up: Sension+ simplifies your measurement tasks!

關鍵字 : pH計, pH meter, 導電度計, 電導度計, 溶氧計, 溶氧檢測計, 鹽度計, 水中鹽度分析
Fast: 4 Parameters simultaneously - with one meter, one probe, one click.
A single probe provides pH, Conductivity, Dissolved Oxygen and Temperature simultaneously.
Maximum simplicity: Sension+ kits come complete with everything you need to start testing.
Sension+ portable kits include meter, probe, carrying case and all required accessories.
Sension+ kits offer superior field usability
Sension+ carrying cases work as complete, portable labs.
Screw-on calibration tubes and probe storage tubes simplify use in field.
Ideal for Environmental Control and general aqueous samples.
套裝組
Includes: Sension+ MM156 meter, Sension+ 5049 multi sensor for pH, Conductivity, Dissolved Oxygen and Temperature, Sension+ portable field carrying case, 125mL of pH4, pH7 and pH10 calibration standards, 147µS/cm, 1413µS/cm and 12.88mS/cm calibration standards, color coded screwable calibration tubes, sample and measurement containers, electrode storage solution and user documentation.
Manuals

Language

Size

Date

Edition

sensION 50 49 Multisensor Basic User Manual


DOC022.97.80407

English US, French, Spanish, Portuguese, Chinese, Japanese, Korean, Thai

1 MB

2013-08

Ed 1

sensION+ 50 49 Multisensor User Manual


DOC022.53.80407

English US

544 KB

2013-08

Ed 1

sensION+ MM156 Meter Kit Packaging Guide-Illustrated


DOC272.99.80409

English US

388 KB

2013-08

Ed 1

sensION+ Portable Meter User Manual


DOC022.97.80143

English US, Chinese, Japanese, Korean, Thai, French, Spanish, Portuguese

2 MB

2013-07

Ed 3