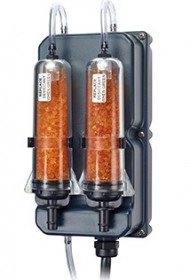 Hach BL9000 Bubble Level Sensor 取代 Sigma 950 Bubbler之新款產品, 搭配 FL1500 Flow Logger 流量監控器, 監測水位. 透過簡單的管道和氣泡壓力,將水位報告給FL1500流量監控器.

The Hach BL9000 Bubble Level Sensor is as straightforward as it gets to measure water level.

Using a simple tube and bubble pressure, liquid level is reported to the FL1500 Flow Meter.

Environmental challenges such as steam, foam, high temps and reverse flow won't hinder the BL9000's ability to deliver accurate and reliable level measurements.
Standard Features and Benefits :
Level Technology:
Bubbler pressure transducer (in the meter)
Additional Features:
Excels in exposed areas that may require tube replacement (vandalism-prone areas, caustic environments)
Water temperatures don't affect readings
Self-purging capabilities keep measurements accurate while reducing maintenance
型錄下載 BL9000 Datasheet
Hach Flow 水流量監測方案影片導覽 The Quest Video
Hunting for Good Flow Data?
DDS offers the path of least resistance.