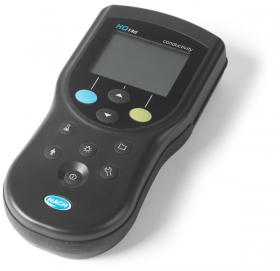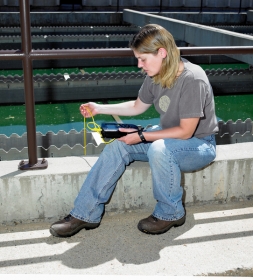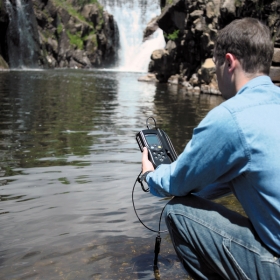 HQ14d數位導電度分析儀可搭配任一款Hach標準IntelliCAL 導電度電極。 直覺式使用界面 - 協助操作人員從設定到所有日常管理工作。 管理人員可使用密碼保護進行設定/時間/日期輸入及資料完整性。可記錄500組數據。 防水功能USB界面,可連結印表機、電腦、鍵盤和USB。

Hach多參數數位水質分析儀HQd 系列可檢測11 種參數,具有標準型、堅固型以及Ultra 等多種電極選擇。極大測量靈活性,更換電極非常簡單,且可自動識別電極。各種IntelliCAL智慧型電極,可測量溫度、pH值、導電度、溶氧(LDO),LBOD,ORP、鈉、銨、氨、氟、硝酸鹽、氯等。

Designed for your water applications, the Hach HQ14d portable meter is an advanced meter that takes the guesswork out of measurements. HQd™ meters connect with smart probes that automatically recognize the testing parameter, calibration history, and method settings to minimize errors and setup time.

關鍵字: 導電度計, conductivity probe, 電導度計, 導電度檢測儀, 導電度分析儀, 電導度測定, 攜帶式水質檢測儀器
Portable meter measures critical water quality parameters - without the need for multiple instruments
Single input channel for conductivity, and temperature - any standard or rugged IntelliCAL™ conductivity smart probe
Intuitive user interface for simple operation and accurate results
Guided calibration and check standard routines reduce calibration errors. Stabilization alerts and visual measurement lock ensure that you can trust the accuracy of the results.
Trust your measurements - IntelliCAL™ smart probes store all calibrations in the probe
Calibration history allows quick and easy change out of probes without re-calibrating. The HQd™ smart system records serial numbers, current calibration data, user ID, sample ID, time, and date automatically in the data log for complete GLP traceability.
Designed for demanding conditions
Rugged, waterproof (IP67) meter provides worry-free, reliable operation in lab or field environments.
Convenient kit includes everything you need to start testing
Meter kit includes 4 AA batteries, quick start guide, and user manual
應用文章

Language

Size

Date

Edition

Coagulation, Flocculation and Clarification of Drinking Water


LIT2141

English US

3 MB

2014-02

Measure pH, conductivity, oxygen with HQD


DOC042.53.20010

English US

446 KB

2016-01

型錄

Language

Size

Date

Edition

HQd Digital Meters and IntelliCAL™ Probes Data Sheet


LIT2599

English US

725 KB

2015-08

Rev 7

The best solution for accurate results in all applications - HQD meters and high performance pH electrodes


DOC032.53.20163

English US

328 KB

2015-08

Aug15

Water Quality Meters & Probes; Electrochemistry Selection Guide


LIT2692

English US

4 MB

2015-04

Rev 5

使用手冊

Language

Size

Date

Edition

HQd Portable Meter Basic User Manual


DOC022.97.80017

English US, French, Spanish, Portuguese, Japanese, Korean, Chinese, Thai

2 MB

2013-08

Ed 4

HQd Portable Meter User Manual


DOC022.53.80017

English US

1 MB

2013-08

Ed 4

Safety Warning Quick Start Guide for Portable Meters


DOC012.98.80017

English US, German, French, Italian, Spanish

771 KB

2011-02

Ed 2