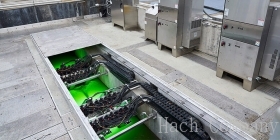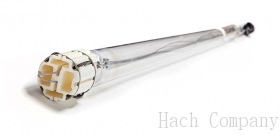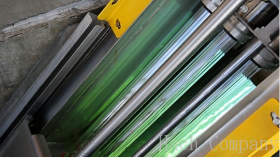 A revolutionary advancement in wastewater treatment 革命性的紫外線 UV 消毒汙水技術

Industry-defining Innovation
The TrojanUVSigna® incorporates innovations, including TrojanUV Solo Lamp® Technology, to reduce the total cost of ownership and drastically simplify operation and maintenance. It is an ideal solution for wastewater treatment plants in need of revolutionary UV technology. TrojanUVSigna® 融合 TrojanUV Solo Lamp® 等創新技術,是需要革命性紫外線技術的污水處理廠的理想方案。

The TrojanUVSigna has been validated through microbial testing. Through this testing, performance data has been generated for UV dose delivery to disinfect pathogens Escherichia coli (E. coli) and fecal coliform. TrojanUVSigna 通過微生物測試驗證。以紫外線消毒病原體大腸桿菌(E.coli)和糞便大腸菌群。

關鍵字 : 汙水 紫外線 消毒 系統, 汙水 UV 殺菌系統, wastewater UV 消毒 殺菌
Key Features and Benefits
Designed to Fit Into Existing Channels

The way in which water enters the UV system is controlled in such a way that stringent tolerances on concrete channel walls are not required, making chlorine contact tank and UV channel retrofits simpler. Retrofits can accommodate existing water level profile and head loss.

Automatic Lamp Sleeve Cleaning

Thanks to the patented ActiClean® sleeve cleaning system, quartz sleeves and intensity sensors are cleaned regularly without disrupting treatment – there's no need to shut down the UV system or remove lamps for routine cleaning. This dual-action cleaning system uses mechanical wiping in conjunction with a cleaning solution contained within wiper canisters surrounding the quartz sleeves.

Low Lamp Count + High Electrical Efficiency

Low-pressure lamps offer high efficiency and long lamp life, medium-pressure lamps have higher UV output – the TrojanUV Solo Lamp combines the best features of both. The end result is a compact and modular UV system unlike any other.

Routine maintenance, including changing lamps and refilling ActiClean Gel, can be performed while banks are in the channel. An Automatic Raising Mechanism (ARM) makes other tasks, such as channel maintenance and winterization, easier.

Enhanced Water Level Management

Water level is managed using light locks in combination with the downstream water level controller. Light locks eliminate the need for complex channel designs, such as stepped channels, and help provide the highest treatment level over a wide range of flow rates and water levels.
System Specifications
System Characteristics

TrojanUVSigna

Lamp Type

TrojanUV Solo Lamp (amalgam)

Lamp Driver

Electronic, high-efficiency (99% power factor)

Input Power Per Lamp

1000 Watts

Lamp Control

30 - 100% variable lamp power (1% increments)

Lamp Configuration

Staggered, inclined array (two-row, four-row or six-row)

Module/Bank Frame

Type 6P (IP67)

Lamp Driver Enclosure

Type 4X (IP66)

Cleaning System

Automatic ActiClean chemical/mechanical

UV Intensity Sensor

1 per bank – with automatic chemical cleaning

Bank Lifting Device

1 per bank - Automatic Raising Mechanism (ARM)

Level Control Device

Fixed weir or motorized weir gate

Water Level Sensor

High and low water level sensors available (one per channel)

Installation Location

Indoors or outdoors

System Control Center

Standard color HMI, 16 digital I/O, 4 analog I/O, SCADA compatible

PLC options available