攜帶式pH計 HQ11D系列 Portable pH Meter, Laboratory Kit for Water Quality, with Gel pH Electrode, 1 m Cable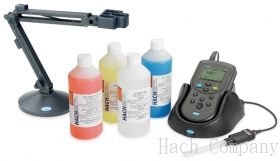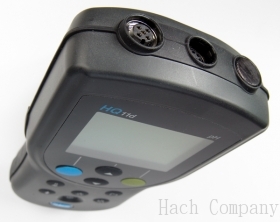 Rugged pH meter for efficient field water testing

Designed for your pH applications, the Hach HQ11D portable pH meter is an advanced handheld digital meter that takes the guesswork out of measurements.

Intellical™ PHC201 is a digital combination pH electrode with built-in temperature sensor. The PHC201 has a non-refillable semi-liquid gel-filled ceramic pin reference junction. This laboratory pH electrode is shockproff with its epoxy plastic body protecting down to the glass bulb sensing element. The PHC201 pH electrode is recommended for general aqueous applications. PHC201 is not suitable for use with organic solvents, low ionic strength, wastewater, high solids or high alkaline sample types.

關鍵字 : pH電極, pH 探頭, pH meter, pH探頭, 酸鹼度計, 酸鹼度測定計, pH檢測計, 移動式 水質檢測設備
The Hach HQD digital pH meter combines reliability, flexibility and ease of use. The HQD portable meters connect with a wide range of Intellical smart pH electrodes addressing different sample types and operating environment for water quality, environmental and treatment process purposes. The Intellical probe automatically recognize the testing parameter, store the calibration history, and method settings to minimize errors and setup time.
Rugged pH meter for efficient field water testing
Single input channel for pH, Oxidation Reduction Potential (ORP/mV) and temperature - connect to any pH or ORP Intellical™ smart electrode, probe and sensor.
Intuitive user interface for simple operation, reliable and accurate results
Guided calibration and check standard routines reduce calibration errors while stabilization alerts and visual measurement lock ensure that you can trust the accuracy of the results. Calibration status indicator and custom calibration alerts ensure accurate results.
Trust your measurements - Intellical™ smart probes store all calibrations in the probe
Calibration history allows quick and easy change out of probes without re-calibrating. The HQD™ smart system records serial numbers, current calibration data, user ID, sample ID, time, and date automatically in the data log for complete Good Laboratory Practice (GLP) traceability.
Designed for demanding field operating conditions and ease of use
Rugged and waterproof meter design provides worry-free, reliable operation in field environments. All connections between the meter and the probe are secure. Connectors can be color-coded for quick identification. Information is clearly displayed on the one screen with back light for low light conditions. Display results can be enlarged.
Package content includes everything you need to start testing.
Manuals

Language

Size

Date

Edition

Basic User Manual: HQd Portable Meter


DOC022.97.80017

English US, French, Spanish, Portuguese, Japanese, Korean, Chinese, Thai

1 MB

2018-02

Oct17 Ed6

Quick Start Guide for Portable Meters


DOC012.98.80017

English US, German, French, Italian, Spanish

771 KB

2011-02

Ed 2

User Manual: HQd Portable Meter


DOC022.53.80017

English US

1 MB

2018-02

Oct17 Ed6
Software/Firmware

Language

Size

Date

Edition

HQd Series Meter Data Transfer Utility V1
Data Transfer Utility allows transferring measurement data directly from your Hach HQd Series Meter to a computer. For use with all HQD instruments (HQ11D, HQ14D, HQ30D, HQ40D, HQ440D, HQ411D) - Portable and Laboratory models.
Only for computers running Microsoft® Windows® 7 and later operating systems.
Administrative privileges are required to install this application on your computer.
1. Save zip file on computer.
2. Extract zip file.
3. Run setup.exe
For further install information see readme.txt file included in the zip package and HQD User Manual.

English US

738 KB

2017-08

V1.0

HQD Software Update v3.0.0.756
Current software for all HQD instruments (HQ11D, HQ14D, HQ30D, HQ40D, HQ440D, HQ411D, HQ430D) - portable and benchtop.
1. Save zip file on computer.
2. Extract zip file.
3. Save files to empty USB stick.
For further information see update instructions and HQD manual.

English US, German, French, Italian, Spanish

1 MB

2018-09

v3.0.0.756