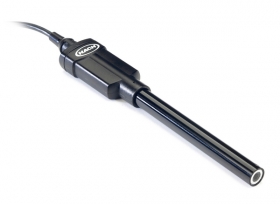 Intellical™ ISENH4181 is a digital, combination, ammonium ion selective electrode (ISE) with a with a non-refillable gel Dritek reference with a double junction, ceramic porous pin and porous PTFE annular ring, and built-in temperature sensor. The electrode measures ammonium concentration in water samples.

The laboratory version of this ISE is shockproff with its Epoxy plastic body.The Intellical ISENH4181 probe is available with a 1 or 3 meter cable and is intended for laboratory use.

The ISENH4181 is ideal for measuring ammonium concentrations in wastewater, drinking water and general water quality applications.

Hach HQd 系列便攜式水質分析儀目前可檢測多種參數。Hach HQd便攜式水質分析儀具有絕佳測量靈活性,電極更換等操作簡單,可自動識別電極。

HQd系列多參數水質檢測儀包含各種IntelliCALTM 電極,可測量pH、導電度、溶氧(LDO),LBOD,ORP 以及鈉離子、銨離子、氨、氟、硝酸鹽、氯等多項水質參數。
Utilizes a unique solid-state sensor technology that eliminates costly membrane replacements

.
Traditional PVC-membrane ISEs require membrane replacement every 2-3 months. The Intellical ISENH4181 Ammonium ISE's unique solid-state sensor technology eliminates the need for frequent membrane replacement by using a solid gel ion exchange behind the ion-selective membrane versus the liquid ion exchange used in most ISEs. This design allows users to get up to 2 years of life from their ISE without membrane replacement – saving the time and costly expense of frequently exchanging membranes.
Requires virtually no maintenance
The solid-state sensor design allows for DRY storage of the ISE without a shelf life. Also, the probe does not require the electrolyte to be refilled.
Fast, stable, and accurate results
Intellical digital probes lock on the result when the measurement is stable, removing the guesswork in having a moving number. Additionally, the probe's large annular reference junction provides maximum surface area between sample and reference electrolyte for fast measurement stability. And the solid-state sensor design doesn't allow the membrane to flex or undergo surface area changes, leading to more stability in results over a variety of samples.
Ultimate traceability in measurement history
Stored time and date stamp for each measurement, operator and sample ID, calibration history, parameter, and probe serial number
Can be moved between meters without the need to re-calibrate or re-enter measurement settings
Ideal for a multi-user environment with multiple HQD series Laboratory and Portable meters
| Ammonium | Method | Range | Reagent Set(s) | USEPA Compliant? |
| --- | --- | --- | --- | --- |
| | ISE Ammonium | 0.018 - 9,000 mg/L NH⁴⁺-N | | |