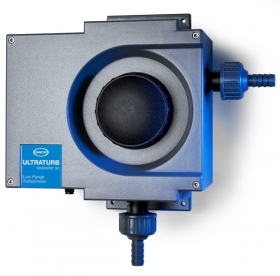 Turbidities in the range of FNU (NTU) 0.0001-1,000 are measured and displayed alphanumerically using a controller. This high resolution facilitates precision differentiation, even for ultra clear liquids. A pulsed, long-life IR radiation source (LED) ensures that costs are minimized.

Designed in accordance with DIN EN ISO 7027 and permanently calibrated before leaving the factory.

Seawater Version
The new ULTRATURB plus Seawater sc is resistant to salt concentrations up to 65 g/L.

*Large measuring range: 0.0001 - 1,000 NTU
*Self-cleaning Sample Chamber Option
*Seawater Version
*Ratio Methodology Detects Sample Chamber Fouling
All key data is set to practical standard values. The instruments are immediately ready for use after connection to the power supply and the supply of sample water. The measuring range and all data outputs are modified to suit requirements using menus on the controller. All optical and electronic assemblies are installed in housings that are physically very strong and proof against water jets.
Ratio Methodology Detects Sample Chamber Fouling
The ULTRATURB sensor uses ratio methodology with detection at 90° and 180° to minimize reflections in the measuring cell and on the windows. In this way, fouling of the sample chamber is detected earlier than with a single detection system.
The ULTRATURB sensor can be used with Hach's sc200 and sc1000 Digital Controllers. The sc200 controller accepts up to two sensors. The sc1000 accepts up to eight sensors. Multiple controllers can be networked to accommodate many more sensors and parameters, reducing the cost per measuring point. Just plug in any Hach "plug and play" digital sensor and its ready to use without software configuration. Plug and play connectivity means there's no complicated wiring or set up.
Network the ULTRATURB sensor with any of Hach's digital sensors for measuring dissolved oxygen, ORP, conductivity, and many other parameters.
| Turbidity | Method | Range | Reagent Set(s) | USEPA Compliant? |
| --- | --- | --- | --- | --- |
| | 7027 ISO Standard | 0 - 1,000 FNU | View | |
Methods/Procedures

Type

Language

Size

Date

Edition

Turbidity


Hach Method explained from Water Analysis Handbook

English US

96 KB

2011-04

Ed 6
Software/Firmware

Type

Language

Size

Date

Edition

SC1000 Certified Multi-Sensor-DTM Software Package


Zip file

English US

11 MB

2014-04

Version 1

Ultraturb sc Sensor Software Update


Extract file to your PC. Carefully read instructions: sc sw upload instruction.pdf. Includes all available languages.

English US, French, Spanish, Portuguese, Italian, German, Czech, Danish, Dutch, Polish, Swedish, Finnish, Bulgarian, Hungarian, Romanian, Lithuanian, Russian, Turkish, Slovakian, Croatian, Greek

2 MB

2015-05

v3.05