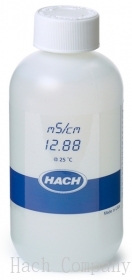 Conductivity standard solutions for laboratory and field analyses
Conductivity Standard Solution. 12.88 mS/cm ±0.11 mS/cm at 25°C, as Potassium Chloride (KCl) (0.1M). 250 mL bottle.

Wide selection of concentrations and package sizes

Traceable to NIST standard reference materials

Design for use with Hach meters portfolio

Reliable packaging

關鍵字 : 導電度標準品, 電導度標準品, 導電度標準液
Parameter/Range/Product Information
Wide selection of concentrations and package sizes
Hach conductivity standards are offered in a large number of sizing to match each user environments and standard operating practices.
Traceable to NIST standard reference materials
Whether in the laboratory or in the field, always perform measurement results you can trust is essential. The quality of the standard solutions that are used are key.
Design for use with Hach meters portfolio
The basis for accurate conductivity measurements is good care and calibration of the conductivity cell.
Supplied in an airtight packaging ensuring guaranteed shelf-life.