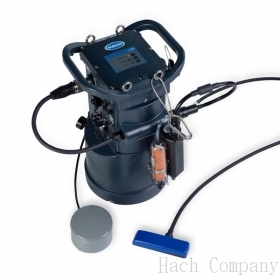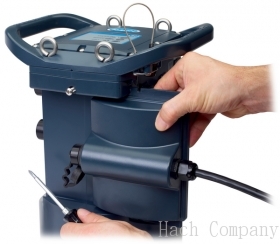 Our Submerged AV Sensor is a robust, 1 MHz Acoustic Doppler velocity sensor designed to measure wastewater flow with improved accuracy and reliability. This tried-and-true sensor also uses a pressure transducer to measure flow level and incorporates advanced technologies to ensure precision, including automatically correcting for temperature and velocity effects on measurements. With advanced signal processing and filtering options, the AV9000 Analyzer Module expands the
applicability of the sensor into more difficult applications. Plus, advanced analyzer diagnostics, including capture and display of the Doppler spectra, allow you to verify that the sensor is working properly even before you leave the site, giving you peace of mind.

Hach 新型水下AV水流量傳感器是一款堅固的1 MHz多普勒速度感測器,搭配Hach AV9000分析儀模組,高準確度和可靠測量廢水流量。並使用壓力傳感器來測量水流量,包括自動校正溫度和速度對測量的影響,以及先進的訊號處理和濾波選項。

By pairing Hach's Sumberged AV Sensor with our state-of-the-art Hach AV9000 Analyzer Module, you create a powerful Hach Submerged Area Velocity Meter (FL900AV) which provides "cleaner", more precise data than ever before.

關鍵字 : 水流量計, 水流量測量, water flow 測量
Reliable, Budget-Saving Monitoring
The FL900 Flow Logger provides users with a reliable, budget saving solution for open channel portable flow monitoring applications. The robust logger's time-saving features will drastically decrease site time and increase safety for monitoring crews. The Logger LED provides instant communication verification of correct site set-up and flow meter communication prior to leaving the site.
Increase Monitoring Crew Safety
With the time saving features designed into the FL900 Flow Loggers, crews spend less time in the manhole and less time on site to decrease monitoring costs while increasing the safety of flow monitoring crews.
The AV9000 Area Velocity Analyzer module is compensated for temperature, thus eliminating potential velocity errors of 2.7% over a 10ºC seasonal swing*. Its advanced multi-scale digital Doppler analysis provides the optimal combination of resolution and noise immunity. Mirror Image Processing eliminates sign errors and the advanced Target Set Processing reduces the impact of dominant targets (particles) in the stream to deliver a more representative velocity.
Easy Installation/Versatile Mounting Options
The logger can be quickly attached to a wall, pole or manhole ladder in minutes. Users can choose to hang logger from standard carabiner or optional 4-bolt wall mount for pole, horizontal or vertical wall mount or ladder rung mount.
Eliminate risk by using wirelessly transmitted flow data to make smarter, real-time decisions regarding your collection system. With wireless-enabled models, you'll receive alarms, via email or text, alerting you to any concerns at your monitoring sites. Plus, using FSDATA Online Data Manager, you'll have secure 24/7 access to your flow data and wireless meter from the comfort of the internet. With FSDATA, site visits to collect flow data or to adjust meter settings are eliminated, decreasing maintenance costs. And you can set alarms and view sensor diagnostics remotely to maximize uptime. That's the power of wireless.
Manuals

Language

Size

Date

Edition

Basic User Manual: FL900 Series Flow Logger


DOC026.97.80015

English US, French, Spanish, Portuguese

2 MB

2018-11

Jun18 Ed9

Basic User Manual: FL900 Series Flow Logger


DOC026.98.80015

English UK, German, Italian, French, Spanish, Portuguese, Swedish, Turkish, Slovenian, Croatian

2 MB

2018-11

Jun18 Ed9

FSDATA Desktop Instrument Manager User Manual


DOC346.53.80513

English US

2 MB

2020-03

Ed2

Full User Manual: FL900 Series Flow Logger


DOC026.53.80015

English US, English UK

1 MB

2020-01

Jun18 Ed9

User Instructions: Antennas for flow products


DOC276.53.80113

English US, English UK

515 KB

2019-01

Apr18 Ed2

User Manual: Submerged Area/Velocity Sensor and AV9000 Area Velocity Analyzer Module


DOC026.97.80186

English US, French, Spanish, Portuguese, Chinese, Japanese, Korean

2 MB

2018-11

Jul18 Ed9
Software/Firmware

Language

Size

Date

Edition

FSDATA Desktop English


Software

English US

31 MB

2020-03

V1.8.1.7