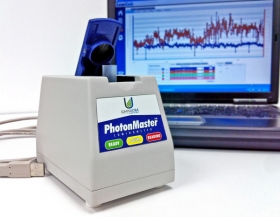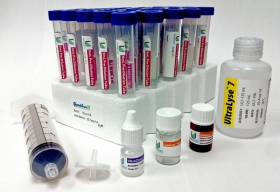 Hach proudly carries LuminUltra's complete line of ATP testing solutions. The LuminUltra product line is comprised of luminometer instruments (PhotonMaster and PhotonMaster w/BTM bundle), 2nd Generation ATP Test Kits (Quench-Gone Aqueous, etc.), and LumiCalc collaboration and analysis software.

Test kits are available for a variety of applications, including drinking water, organics, oil & gas, nitrification, wastewater, and industrial.

In addition to instruments and test kits, Hach carries individual reagents, replacement kit components and consumables, and luminometer cleaning and maintenance items.
| | |
| --- | --- |
| DIS-SFQG-25 | QGA Syringe Filters, Bag of 25 |
| LU-3ML-FD | 3mL Luminase |
| QGA-100C | Quench-Gone™ Aqueous Test Kit, 100 Tests |
| DIS-CT12-50 | 12x55mm Test Tubes (50) |
| ULU-9ML-50R | UltraLute 9mL Dilution Tube 50/Rack |
| UL7-125ML | UltraLyse 7 125mL Bottle |
| UC1-5ML | UltraCheck 1 5mL Bottle |
| UL7-5ML-25R | UltraLyse7 5mL Extraction Tube 25/Rack |
| QGOM-100C | Quench-Gone™ Organic Modified Test Kit, 100 Tests |
| DSA-25C | Deposit & Surface Analysis Test Kit, 25 Tests |
| LUW-3ML-FD | 3mL LuminaseW |
| LC-250ML | LumiClean, 250mL Bottle |
| QGA-25C | Quench-Gone™ Aqueous Test Kit, 25 Tests |
| QGA-100 | Quench-Gone™ Aqueous Test Kit (reagents only), 100 Tests |
| EQP-PBM-PAC | LuminUltra Photonmaster Luminometer with PBM |
| QG21W-50C | QuenchGone21™ Wastewater Test Kit, 50 Tests |
| LMK-5 | LuminUltra Luminometer Maintenance Kit |
| QG21WA-25C | QuenchGone21™ Advanced Wastewater Test Kit, 25 Tests |
| EQP-PBM-UPGB | PBM Upgrade for LuminUltra PhotonMaster luminometer (Basic Upgrade) |
| LUXL-3ML-FD | 3mL LuminaseXL |
| LS-10ML-50R | LumiSolve 10mL Stabilizer Tube 50/Rack |
| ULUR-8ML-50R | UltraLute Resin 8mL Dilution Tube 50/Rack |
| LS-9ML-50R | LumiSolve 9mL Stabilizer Tube 50/Rack |
| QG21ST-100C | QuenchGone21™ Specialty Test Kit, 100 Tests |
| QG21IT-100C | QuenchGone21™ Industrial Test Kit, 100 Tests |
| EQP-PBM-UPGF | PBM Upgrade for LuminUltra PhotonMaster luminometer (Full Upgrade) |