攜帶式導電度計/TDS檢測計 Sension+ EC5系列 Portable Conductivity/TDS Meter, Field Kit with 3 Poles Platinum Cell for General Purpose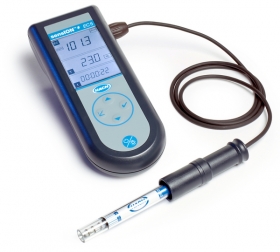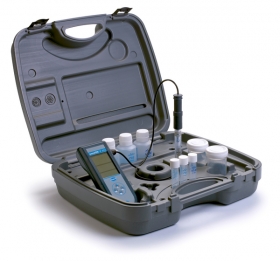 檢測參數:水中電導度、鹽度、TDS、溫度
IP67防護等級

快速檢測結果 Fast results: Provided by the right choice of quickly responding electrodes for your application, integrated laboratory systems or unique multi probes with up to 4 parameters by 1 click for field applications.

關鍵字 : 攜帶式水質檢測儀器, TDS測定, 導電度測定, 電導度 meter, Conductivity meter, 水中鹽度測定
檢測參數
| Salinity | Method | Range | Reagent Set(s) | USEPA Compliant? |
| --- | --- | --- | --- | --- |
| | Electrical Conductivity | 0.0 - 42.0 g/L (ppt) | | |
| TDS (Total Dissolved Solids) | Method | Range | Reagent Set(s) | USEPA Compliant? |
| --- | --- | --- | --- | --- |
| | 8160 TDS | 0 - 10.00 ppt | View | |
| | 8160 TDS | 0 - 1990 ppm | View | |
Fast conductivity measurements
Fast performing Platinum cell for conductivity measurements in general aqueous applications with integrated PT1000 temperature sensor.
Maximum simplicity: Sension+ kits come complete with everything you need to start testing.
Sension+ portable kits include meter, probe, carrying case and all required accessories.
Sension+ kits offer superior field usability
Sension+ carrying cases work as complete, portable labs.
Screw-on calibration tubes and probe storage tubes simplify use in field.
Instruments are ergonomically shaped and can easily be operated single-handed.
Manuals

Language

Size

Date

Edition

50 60 Probe User Manual


DOC012.97.90312

English US, Chinese, Japanese, Korean, Thai, French, Spanish, Portuguese

873 KB

2013-07

Ed 3

sensION+ Portable Meter User Manual


DOC022.97.80143

English US, Chinese, Japanese, Korean, Thai, French, Spanish, Portuguese

2 MB

2013-07

Ed 3