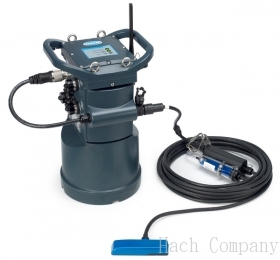 我們的水下流速感測器是一款堅固的1 MHz聲學都普勒速度傳感器,用於測量廢水流量,提高精度和可靠性。使用壓力傳感器測量流量水平,並採用先進技術確保精確度,包括自動校正溫度和速度對測量的影響。透過先進的訊號處理和濾波選項,AV9000分析儀模組將感測器的適用性擴展提升至具挑戰性之應用環境。此外,先進的分析儀診斷功能,包括捕獲和顯示都普勒頻譜,讓您可在離開現場之前驗證感測器是否正常運作。

Our Submerged AV Sensor is a robust, 1 MHz Acoustic Doppler velocity sensor designed to measure wastewater flow with improved accuracy and reliability. This tried-and-true sensor also uses a pressure transducer to measure flow level and incorporates advanced technologies to ensure precision, including automatically correcting for temperature and velocity effects on measurements. With advanced signal processing and filtering options, the AV9000 Analyzer Module expands the applicability of the sensor into more difficult applications. Plus, advanced analyzer diagnostics, including capture and display of the Doppler spectra, allow you to verify that the sensor is working properly even before you leave the site, giving you peace of mind.

關鍵字 : 流速計, 水下流速測量, 廢水流量測量
Reliable, Budget-Saving Monitoring
The AV9000 Area Velocity Analyzer module is compensated
for temperature, thus eliminating potential velocity
errors of 2.7% over a 10ºC seasonal swing*. Its advanced
multi-scale digital Doppler analysis provides the optimal
combination of resolution and noise immunity. Mirror Image
Processing™ eliminates sign errors and the advanced Target
Set Processing™ reduces the impact of dominant targets
(particles) in the stream to deliver a more representative
velocity.
Increase Monitoring Crew Safety
With the time saving features designed into the FL900 Flow Loggers, crews spend less time in the manhole and less time on site to decrease monitoring costs while increasing the safety of flow monitoring crews.
The AV9000 Area Velocity Analyzer module is compensated
for temperature, thus eliminating potential velocity
errors of 2.7% over a 10ºC seasonal swing*. Its advanced
multi-scale digital Doppler analysis provides the optimal
combination of resolution and noise immunity. Mirror Image
Processing eliminates sign errors and the advanced Target
Set Processing reduces the impact of dominant targets
(particles) in the stream to deliver a more representative
velocity.
Easy Installation/Versatile Mounting Options
The logger can be quickly attached to a wall, pole or manhole ladder in minutes. Users can choose to hang logger from standard carabiner or optional 4-bolt wall mount for pole, horizontal or vertical wall mount or ladder rung mount.
Manuals

Language
Size
Date
Edition
AV9000 Module for Flow Loggger-User Instructions


DOC276.99.80186

English US, German, Italian, French, Spanish, Portuguese
693 KB
2011-08
Basic User Manual: FL900 Series Flow Logger


DOC026.97.80015

English US, French, Spanish, Portuguese
2 MB
2018-11
Jun18 Ed9
Basic User Manual: FL900 Series Flow Logger


DOC026.53.80015

English US, English UK
1 MB
2018-11
Jun18 Ed9
Basic User Manual: FL900 Series Flow Logger


DOC026.98.80015

English UK, German, Italian, French, Spanish, Portuguese, Swedish, Turkish, Slovenian, Croatian
2 MB
2018-11
Jun18 Ed9
FSDATA Desktop Instrument Manager User Manual


DOC346.53.80513

English US
97 KB
2017-08
Ed 2
User Manual: Submerged Area/Velocity Sensor and AV9000 Area Velocity Analyzer Module


DOC026.97.80186

English US, French, Spanish, Portuguese, Chinese, Japanese, Korean
2 MB
2018-11
Jul18 Ed9
Software/Firmware

Language
Size
Date
Edition
FSDATA Desktop English


Software

English US
31 MB
2018-11
V1.8.1.5