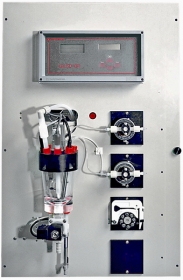 Advantages of 8810 ANALYZER :
• Most standard laboratory reference methods are amenable to on–line chemical analysis.
• Titrimetric analysis is very accurate and precise, especially at high concentration levels.
• Substances for which no specific sensors exist can still be determined by titration, using specifically reacting reagents.
• The zero and slope stabilities of the electrodes are much less critical for titrations than for direct potentiometry.
• The results of the analysis are directly related to the concentration.
應用:
●再生水(中水回收利用),尤其是用於農田灌溉
●工業循環冷卻水
●地表水監測和控制

檢測參數: 鹼度,硬度, 氯化物, 鈣
Delivering reliable results that save you critical time and effort.
The 8810 ANALYSER is designed to provide the user with the chemical information needed to operate the process on a high level of reliability and efficiency.
Production processes are constantly being improved to operate at faster rates with a minimum of intervention by production personnel. Concurrently, material–quality tolerances and process conditions are subjected to more severe specifications. As a result, both production efficiency and product quality are critically dependent upon continuous control of the key chemical parameters.
| | | | | | |
| --- | --- | --- | --- | --- | --- |
| Z368810,40240 | 8810 Alkalinity Analyser, 240 VAC 50Hz | Free and Total Alkalinity | pH Titration | No | 110 - 240 V AC |
| Z368810,52220 | 8810 Total Hardness Analyser, 220 VAC 50Hz | Total Hardness | Redox (ORP) titration | No | 110 - 240 V AC |
| Z368810,52240 | 8810 Total Hardness Analyser, 240 VAC 50Hz | Total Hardness | Redox (ORP) titration | No | 110 - 240 V AC |
| Z368810,53220 | 8810 Calcium Analyser, 220 VAC 50Hz | Calcium | Redox (ORP) titration | No | 110 - 240 V AC |
| Z368810,40220 | 8810 Alkalinity Analyser, 220 VAC 50Hz | Free and Total Alkalinity | pH Titration | No | 110 - 240 V AC |
| Z368810,31220 | 8810 Chloride Analyser for Standard or High Range, 220 VAC 50 Hz | Chloride | ISE | No | 110 - 240 V AC |
| Z368810,31240 | 8810 Chloride Analyser for Standard or High Range, 240 VAC 50 Hz | Chloride | ISE | No | 110 - 240 V AC |
| Z368810,38220 | 8810 Chloride Analyser for Low Range, 220 VAC 50 Hz | Chloride | ISE | No | 110 - 240 V AC |
| Z368810,38240 | 8810 Chloride Analyser for Low Range, 240 VAC 50 Hz | Chloride | ISE | No | 110 - 240 V AC |
| Z368810,53240 | 8810 Calcium Analyser, 240 VAC 50Hz | Calcium | Redox (ORP) titration | No | 110 - 240 V AC |